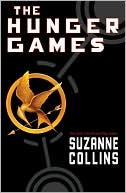 "Winning means fame and fortune. Losing means certain death.
The Hunger Games have begun...."
Book: The Hunger Games by Suzanne Collins
Rating
: A+
Genre: YA Science Fiction, Post-Apocalyptic
Age Appropriate: 7th Grade - Adult
Here we go! This is my very first (of many) book reviews. I am an avid reader and want to share my love of books with the world. About a month ago, I finished The Hunger Games by Suzanne Collins. This was a can't eat, can't sleep, can't-put-down-until-I-finish book!

Forever fascinated by the post-apocalyptic genre, I could not pass up this book once I started getting word of the constant raving. It is an action-packed story about a young gladiator thrown into an arena and forced to fight to the death. Katniss Everdeen, the young protagonist, struck me as completely unforgettable. Her strength, determination, and love of her sister, Prim, makes her hard not to become attached too. Although, love triangles never seem to disappoint me either! ;)

This book only took me a couple days to finish, and I've managed to hook others onto the Hunger Games craze! My hubby loved the book, and I'm currently reading it to my 7th and 8th grade English class. The kids are obsessed; they're begging me on a daily basis to read to them, even passing up a movie the other day!

Please leave some comments!
What did you think of the book? What was your favorite part? Favorite character?
"Happy Hunger Games! And may the odds be ever in your favor!" - Effie Trinket